Trust the Professional Service Center Team of Mena Ford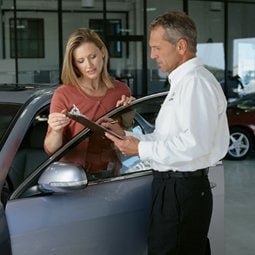 Professional service is essential to the life of your vehicle. You already know getting routine maintenance performed, including oil changes and tire rotations, is the key to keeping your vehicle running great for a long time, and to helping you avoid larger problems down the road. Now, learn more about the expert service team at Mena Ford in Mena, and how we can help you give your vehicle the care and attention it needs. We know your Ford vehicle best, and we want to help it work for you.
Trust Mena Ford for Routine Maintenance & Larger Repairs Alike
Every car needs a basic level of routine maintenance performed, per the vehicle's owner's manual. This typically involves things like oil changes, filter replacements, tire rotations, and more. We can take care of those routine services so you can focus more on enjoying your vehicle and less on tinkering under the hood. And if your car requires a larger fix, we can tackle that too. After all, who better to trust than the ones already taking care of your car?
Schedule Service for Your Ford Vehicle in Mena Today
If your crossover, SUV or truck is due for service, we're ready to help. Scheduling an appointment is quick and easy thanks to our online service scheduler. All you need to do is set a time and let us know what you need us to do! Then, all that remains is showing up for your appointment and taking advantage of our comfortable waiting area while our pros tackle your vehicle's maintenance and repair needs. If you have any questions, please don't hesitate to get in touch with our team!